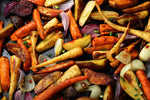 Roasted Roots
Easiest meal you can make completely on autopilot. For one of those days when you don't want to think about another thing! Gather whatever root vegetables you have, a couple sweet potatoes, yams, red potatoes, beets, carrots, onions or parsnips, and don't turn away those scrumptious trimmed asparagus just because they didn't grow underground!
Ingredients
Assortment of vegetables, skins scrubbed and cut into wedges to fill 2 or 3 baking sheets.
1/2-3/4 cup olive oil
2 cloves garlic minced
1 teaspoon salt
1/2 teaspoon pepper
Instructions
Preheat oven at 425 degrees F.
Toss all the vegetables in a large bowl with olive oil, minced garlic, salt and pepper.
Divide the vegetables evenly between the pans, spreading them out with skin side down on the pan. This cooks the wedges evenly without needing to stir or turn any of them.
Place baking sheets in oven and roast the veggies until tender and golden brown, about 40 minutes in my convection oven, or up to an hour conventional.
Serve with a crunchy salad for contrast, or just eat from the pans family style and skip washing the utensils.
Sometimes its just fine to zone out on dinner details!