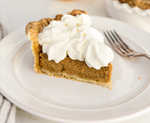 Dreamy Creamy Pumpkin Pie
Holidays at our house mean plenty of pumpkin pie. Not too sweet, and free game for breakfast, lunch, dinner...or in between.
Creamy Pumpkin Pie
1 (29 ounce) can pumpkin puree
1 (13 ounce) can coconut milk
3/4 cup honey or 1/2 cup xylitol
1 teaspoon salt
1 teaspoons cinnamon
1 teaspoon ginger
1/2 teaspoon cloves
4 eggs (for a lighter, taller pie, and the expense of 10 minutes, separate and beat the whites)
Blend, pour into 2 unbaked Whole Wheat deep dish pie crusts (see recipe below). Bake for 15 minutes at 425˚ then turn down to 350˚ for 40-50 minutes until knife in center comes out clean. Cool and serve with Whipped Coconut Cream.
Whole Wheat Pie Crust (or for Gluten free skip the crust!)
2 cups whole wheat flour
1 teaspoon salt
5 Tablespoons ice water
1/2 cup butter diced
Combine flour and salt, remove 1/3 of the mixture and make a paste with it by adding the cold water. Cut butter cubes into remaining flour mixture with pastry blender or fingers until the size of peas. Add paste and stir dough into a ball. Roll out on floured surface. Fill and bake or freeze for later use. Makes 3 single crust or two thin double crust pies. A Triple batch makes 5 double crust pies.
For more where this came from, snap up a copy of The Feel Good Cookbook, real food for real people on the go! Related Recipes: Whipped Coconut Cream
Hi, I'm Jonell Francis, an expert in Leaky Gut Syndrome, a nerd when it comes to the science of feeling fabulous, and obsessed with guiding women (and those they love) back to vibrant health.
As a mom of many, I'm known for taking tight corners, burning through blenders and overfilling the washing machine. 
I'll teach you to lean into your own intuition, trust your gut and embrace crazy beautiful life however it shows up. Best of all, I'll show you my secrets for keeping your family well, all through the year."
Trust me with your health … but not your home appliances!