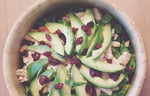 Grilled Chicken Cran Apple Salad
Hungry for dinner? This meal in a dish satisfies even growing teenage boys at our table. Also keeps well with an ice pack for takeaway lunch. Takes about 15 minutes to grill the chicken, or cut your time by warming pre-grilled chicken on the stovetop.
Ingredients
1 cup Grilled chicken strips (made fresh, or the frozen kind warmed in a pan)
1 head romaine lettuce, cut into bite size peices
1 diced red apple (your daily serving of fruit while on Reboot)
1 sliced avocado for garnish on top
1/2 cup dried cranberries
Carver's Salad Dressing
1 cup olive or avocado oil
2 teaspoons granulated stevia or monkfruit (zero carb)
1/3 cup mustard—yellow, brown or deli style
1/8 cup balsamic vinegar
1 Tablespoon mayo
½ teaspoon salt
½ teaspoon black pepper
Instructions
Prep each ingredient and assemble salad, lettuce first, then grilled chicken, diced apple, avo and cranberries. Drizzle then toss with this winning dressing.
But don't keep this salad a secret. Share with a friend who loves both simplicity AND amazing flavor. This salad won't disappoint!
Grilled Chicken Cran Apple Salad