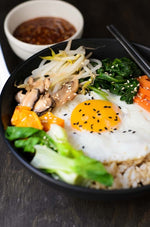 Bibim Bop (Korean Rice Bowl)
This year we invited a Korean exchange student to stay with us and experience American living. Jiyu loves to cook and has already shared some new family favorites. Like this easy rice bowl meal. Not only is the name a hoot to say, but the jewel-like vegetables are hypnotic and the flavors addictive! Another thing is that it's so customizable for individual tastes. We all go home happy! Serves 6. Prep takes about 30 minutes.
Ingredients
Gochujang Sauce:
3 Tablespoons store-bought gochujang chile paste (now sold at Smiths/Fred Meyer)
1 Tablespoon coconut aminos or fish sauce (substituting for soy)
1 Tablespoon sesame oil
2 cloves garlic, crushed
1 Tablespoon granulated stevia or monkfruit (totally optional if you don't relish the flavor)
For the bowl:
3 cups brown rice (any variety) cooked up to make 6 cups, enough for everyone
3-4 medium size carrots, cut into thin ribbons with a vegetable peeler or chefs knife
3-4 small zucchini, quartered lengthwise and thinly sliced
1/2 large cucumber, halved lengthwise, seeded and thinly sliced
big handful of bean sprouts (6-ish ozs)
sesame oil to season c
oconut aminos to season
olive or avocado oil for frying
8 ounces shiitake mushrooms, stemmed and sliced
10 ounces spinach
6 large eggs
toasted sesame seeds (black ones win the beauty contest every time)
a few leaves of baby salad greens or watercress for garnish (optional)
Instructions
Get the rice cooking (love yourself with a rice cooker), then whip up the Gochujang sauce in a small bowl and set aside. Invite spare hands to join you for this next part, a veggie processing party!
Get all the veggies cut and stacked on a large platter. In Korea, it's imperative that they don't mix with each other. When all the vegetable ingredients are ready, fill a large saucepan with water and bring it to a rolling boil.
One by one, blanch the carrots, zucchini, bean sprouts and cucumber (yep the cukes) for 1 minute. Use a slotted spoon to remove them from the water and drain fully. Jiyu explained that this bath wakes up the flavors inside each vegetable.
Now for the spinach and mushrooms.
Heat 1 Tablespoon cooking oil in a skillet over medium heat. Add the mushrooms and stir-fry until softened, 4 to 5 minutes. Dump the mushrooms in a bowl and season with 1/2 teaspoon each toasted sesame seed oil and coconut aminos.
Return the skillet to medium-high heat. Add the spinach and a splash of water (1 Tablespoon or so). Cook for a few minutes, stirring constantly, until the spinach has wilted. Remove the spinach, squeeze out any excess water, and season with 1/2 teaspoon toasted sesame seed oil and coconut aminos. (In Korea, these vegetables are served at room temperature, so don't worry about keeping them warm.)
Last step, Wipe out the skillet or use a clean pan and fry the eggs to your liking. Divvy the rice into 6 bowls, place 1 egg in the center of the rice and arrange the vegetables around it. Sprinkle over some black sesame seeds or baby salad greens and serve with the sauce. (Advise first timers to start with only a spoonful of the sauce, mix together well and taste it before adding more ;)