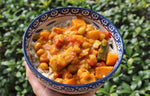 Potato Curry with Coco Rice
This recipe comes from our Tumtree Ambassador in North Shore Oahu, Britnee Kent. She says, "I LOVE curry. And I've tried a lot of them now, but this vegetarian dish is my numba one." --Britnee Kent
1 yellow onion
3 cloves garlic
1/2 teaspoon of each spice: cinnamon, turmeric, cumin, coriandor, ground cloves, salt
1 teaspoon fresh or ground ginger
1 red chili or jalapeno to your spice liking
1 can (15 oz) diced tomatoes
1 can (15 oz) chickpeas
1 large sweet potato
1 can full fat coconut milk
1 zucchini
In a large skillet, cook yellow onion with some oil (I use coconut oil). Once translucent, mix in garlic, chili, and ginger to the onions and the 1/2 teaspoon of each of the spices. Allow to cook with onions for 3-4 minutes.
Then add chickpeas, tomatoes, HALF a can of coconut milk (we use the other half for the rice) and half a cup of water. Then add 1 large sweet potato that has been peeled and diced into 1 inch cubes.
Turn the heat down to a simmer, cover and let cook for 50 minutes to let all that goodness mix together. Stir occasionally and at 20 minutes in taste it and add more spices as you like.
You can add any other vegetables or ingredients that you want, but this recipe is how I love it best! Serve over coconut rice. Makes great leftovers too.
1 cup rice (I use brown rice)
Let rice cook in water until done. Add other half of coconut milk and mix together allowing to cook until the rice is not runny. You can even add a little erythritol or honey or coconut sugar if you want it to be sweet rice. So yummy!!
For more recipes from Brit, check out her blog,
Britnee Kent Nutrition,
and visit her instagram channel, @britneewest
Sweet Potato Curry with Coco Rice