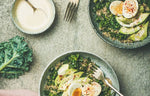 Green Energy In The Morning
Say hello to the day with this energy boosting vegetarian breakfast bowl that will keep your brain synapses snapping well past noon.
Ingredients
1 Tbsp oil (coconut, avocado or olive)
1 tablespoon tahini (sesame seed paste for delicious flavor)
2 cups (or a giant handful) kale
1 cup fresh green vegetables (green beans, thin sliced zucchini or chopped broccoli works too)
1/2 avocado sliced or chopped
2 soft boiled eggs (7 minutes) as pictured, or you can fry fresh eggs right in the pan
1 cup cooked quinoa (I usually have some stored in the fridge for quick power bowls and salads)
salt/pepper to taste sprinkle of paprika
Instructions
In a skillet, heat up some oil over medium heat. Add tahini and stir til smooth. Throw in 2 cups chopped kale plus green beans or sliced zucchini and saute until softened.
If you're in a hurry and don't have eggs hardboiled already, push the greens to the sides and add your eggs in the middle. Salt and pepper lightly just to wake up the flavors. Put a lid on the pan and while the egg cooks, thin slice the avo.
Assemble the bowl with a sprinkle of paprika for a splash of complimentary color. Love it and have a power filled day!