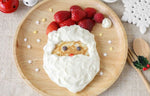 Whipped Coconut Cream
We all credit Tanner, our 'whip cream connoisseur,' for perfecting this recipe. Looks and tastes so much like dairy whipped cream you'll cheer! Turns homemade glutenfree pancakes into a party and Creamy Pumpkin Pie into all your dreams come true. Dessert Whip Dispensers form coconut milk, almond milk or other thick milks into nice stiff peaks and with decorator tips, can provide hours of artistic therapy for anyone. They cost around $50 online or at specialty kitchen shops. Cartridges run about $.80 each, but WOW what a treat. Only the whitest, creamiest coconut milk makes the whitest, creamiest desserts—especially whipped cream and ice cream. Try several to find your favorite. Ours is Trader Joe's Coconut Milk in the brown can.
Recipe:
1 (13 ounce) can coconut milk
1 Tablespoon honey or powdered erythritol
1 teaspoon vanilla
Blend with hand blender, pour into dessert whip dispenser add nitrous oxide cartridge and dispense. Works best if milk is chilled before adding. See The Feel Good Cookbook for more fun dairy free and fruit sweetened Alternatives for toppings and sauces.