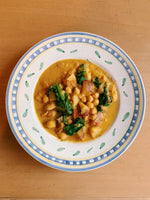 Curried Vegetable and Chickpea Stew
This recipe has passed through many hands in many countries to be adapted to by me to meet my families preferences.  I love this just as it is, vegetarian.  This dish simply explodes with flavor and I'm always praying for leftovers because it's flavor you want to enjoy for days!
But the original recipe called for sausage, so that's an optional add in for you.  I love that you can throw it all together in a stew pot, crockpot or instant pot and let it simmer while doing other things.  You stir the spinach leaves in just before serving to keep a bright green in the mix.  And as with all curries, it tastes even better the next day.

1 tsp olive oil
1 large onion, diced
2-3 lbs all-purpose potatoes, diced (I use redskin and don't peel them)
1 T salt
1 T curry powder
1 T dark honey
1-inch piece fresh ginger, peeled and grated (abt 1 T)
3 garlic cloves, minced
1/8 tsp cayenne pepper or crushed red pepper
4 C chicken or vegetable broth
3 (16-oz) cans chickpeas, drained and rinsed
1 green bell pepper, diced
1 red bell pepper, diced
1 yellow bell pepper, diced
1 head cauliflower, cut into bite-sized florets
1 (28-oz) can diced tomatoes with their juices
1/4 tsp black pepper
10 oz. baby spinach
1 (13-oz can coconut milk)
Layer all ingredients into your pot (Soup pot, crockpot or instant pot.) No need to saute onions in oil first. Add all ingredients but the fresh spinach.  For stovetop soup pot, simmer for 30 minutes until potatoes and cauliflower are soft.  Takes 4 hrs on low for my crockpot, and only 12 minutes cooktime on high in my Instant pot. Within the first 20 minutes the heavenly aroma will fill your kitchen :).  Stir every 10 minutes for stovetop just to keep from burning.
When cooktime is done, stir in the fresh spinach (with or without the stems) and serve with rolls and butter.  So scrumptious! Would also taste amazing served over rice or rice noodles.  Enjoy!