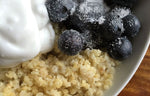 About Hot Whole Grain Cereals
Before you live another day stirring the hot cereal in a saucepan to keep it from burning, please. Get yourself a rice cooker. Toss in twice as much water as grain, salt lightly, and in about 20 minutes breakfast is ready and will keep itself warm without burning. It's almost like having another mother in the kitchen ;)
I get the cereal going, set out bowls, spoons, honey and almond milk, and take off for my morning run. Kids self serve as they're ready and I'm back in time to feed the last one out the door. My kids really enjoy rich coconut cream (Kara Brand rules them all) poured over their cereal or a mound of Whipped Coconut Cream on top.
In a rice cooker:
1/2 cup dry millet per desired serving add twice as much water as grain
add 1/4 tsp salt
Cover with lid, press Cook and in 20 minutes, wahla.  Breakfast is ready. Serve with fresh blueberries and a mound of thick coconut cream. Sprinkle powdered stevia to add a little sweet if desired. For those not doing 30 day Reboot, add sliced banana, a little butter, cinnamon, raisins, and a swirl of honey.