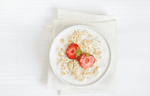 How do you even explain what's so comforting about the texture of warm steel cut oats on a crisp morning? And since Mountain Man brought home a rice cooker for me 25 years ago, I've never burned a batch of hot cereal or grain since.
Into a rice cooker add:
1/2 cup steel cut oats per desired serving
add twice as much water as grain
add 1/4 tsp salt
Cover with lid, press Cook and in 20 minutes, wahla. Breakfast is ready.
Serve with fresh seasonal berries and almond milk or thick coconut cream. Sprinkle powdered stevia or monkfruit to add a little sweet if desired. For those not doing 30 day Reboot, add sliced banana, a little butter, cinnamon, raisins, and a swirl of honey. And go to your happy place with this!