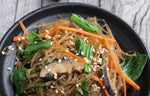 Jap Chae Korean Glass Noodles
Korean cuisine is clean, honest, and generally very healthy. And like most Asian food, it's Reboot friendly, without sugar, dairy products, wheat, corn and (with a tweak) even soy. Lower the carb count by choosing cauliflower or mushroom rice and mung bean or sweet potato noodles, like this new fave dish at our table. And of course, the meat is always optional.
Jap Chae is Korean party food on New Years and Harvest Festival and welcome any time of year at our place. The prep is a lot of slicing, dicing and mini-micing, so recruiting helpers will add to the fun. I recommend blasting some KPop (BTS or Black Pink or XO) to keep your hips and hands movin ;)
Ingredients
Sauce:
3 Tablespoons coconut aminos
1 Tablespoon granulated stevia or monk fruit (in place of 2 Tablespoons honey)
2 Tablespoons sesame oil
2 teaspoons minced/crushed garlic
Stir fry:
8 ounces sweet potato noodles (also now available at Smith's/Fred Meyer or an asian market)
4 ounces lean beef, cut into 2 inch long strips (always optional)
6 ounces (2 giant handfuls) fresh spinach or 3 baby bok choy cut into bite-size pieces
Salt and pepper to taste
olive or avocado oil
1 yellow onion, thinly sliced
4 mushrooms, stemmed and sliced
1 medium carrot cut into matchsticks
Instructions
Whisk sauce ingredients together and set aside. Then bring a large pot of water to a boil, and boil sweet potato noodles til cooked through but firm to the bite, 607 minutes.
Rinse noodles under cold water and drain. Transfer noodles to a bowl, add 2 tablespoons sauce mixture, and toss to coat.
If using meat, squeeze beef strips under running water until juices run clear. Mix beef and 1 tablespoon sauce together in a bowl to marinate.
Next, bring a pot of water to a boil for the spinach (or bok choy) and cook 1 minute until wilted. Drain quickly and transfer greens to a bowl of cold water to stop the cooking process. Drain the greens and move to a large bowl and season with salt and pepper.
Now, heat 1 teaspoon oil in a large skillet over medium-high heat; cook onion until fragrant but crisp, 1 to 2 minutes. Transfer onion to the greens bowl.
Heat another teaspoon oil in the same skillet. Cook mushrooms in the hot oil until lightly browned but still firm, 1 to 2 minutes; add to onion mixture.
Heat remaining 1 teaspoon oil in the same skillet. Cook carrot in the hot oil until lightly browned but still crisp, 1 to 2 minutes; add to the greens.
Cook and stir beef in the same skillet until browned, 1 to 2 minutes; add to greens. Cook and stir noodles in the same skillet until heated through, 1 to 2 minutes; add to beef-greens mixture. It's fun to see it all come together. Add remaining sauce to beef-noodles mixture and toss to coat using your hands.
Serve with toasted sesame seed garnish or sliced green onions. Use more veggies next time if you like. Jap Chae, dating back at least the 1600's was historically an all veggie dish without glass noodles. So, in the name of heritage, Pile those veggies on!