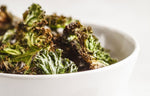 Baked Kale Chips with Sea Salt
This low calorie nutritious snack is incredibly satisfying and the chips sort of melt in your mouth. Try them and you'll see what I mean.
Ingredients
6-10 large kale leaves, with woody stems removed, rinsed and patted dry with paper towels (this makes them crispy instead of chewy). olive oil, to drizzle on top sea salt to taste
Instructions
Spread the kale pieces on an ungreased cookie sheet. Drizzle with olive oil and sprinkle with sea salt. Then bake in the oven at 300' for 20 minutes. Take them out to cool, and eat up! Great movie snack or for game night. You may wish you made a bigger batch.