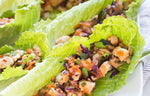 Thai Lettuce Wraps
Cooking up goodness with Brit from
Brit Kent Nutrition
this week. And we've landed some super clean simple eats, like these fresh chicken lettuce wraps with a Thai twist. Easily made meatfree by substituting cauliflower chunks for the chicken.
Thai Lettuce Wraps
-4 chicken breasts -coconut or liquid aminos -4 large carrots, quartered and thin sliced -1/2 red cabbage, diced into 1/2 inch peices -1/2 red onion, thin sliced -3 tsp fresh ginger grated (or ground ginger-2 tsp) -1 tsp garlic, minced -lettuce peices (boats) for wraps Saute onion in avocado or olive oil until tender. Add chicken and cook it through. Then add the garlic and ginger. Carrots and cabbage and cook until tender. Add the liquid aminos until it was seasoned enough.
Peanut Sauce
-1/2 cup peanut butter -1 teaspoon granulated stevia or monk fruit to sweeten -1/8 cup coconut aminos -1 tsp garlic Add all the ingredients in a pot and stir around until thick. Serve the chicken mix on the Romaine Lettuce Spears with rice on the side, and delectable thai peanut sauce on top. For more delicious meal ideas from our kitchen see
The Feel Good Cookbook.