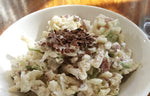 Grated Apple Breakfast
Don't let the flax seeds scare you. This breakfast is not only delicious but quick to throw together and will sustain your energy til lunchtime. Your tastebuds will love how creamy sweet it is, while your brain and body lap up those essential fatty acids from flaxseed and coconut. It's practically dessert for breakfast!
Grated Apple Breakfast:
6-8 unpeeled, grated apples 1 (14 oz) can coconut cream 2-3 Tablespoons ground flaxseed Combine all ingredients and ENJOY. *Want more wholefood, allergy free recipes like this? Discover
The Feel Good Cookbook: Whole Foods and Allergyfree Recipes
. Follow MyFeelGoodFoods on Instagram for a chance to win your own copy of The Feel Good Cookbook. Giveaway coming soon!
Grated Apple Breakfast