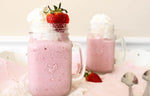 Strawberry Banana Shakes
It's hard to be unhappy with fresh Strawberry Banana Shakes in the house. Celebrate National Strawberry Day, February 27th, with this 2 minute creamy treat.
Combine in Blender: 1 (13 ounce) can coconut milk or cream 1 quart rice milk 1 (12 ounce) can Dole Strawberry Kiwi Frozen Juice Concentrate (Apple Raspberry Juice as an alternate) (10 ounce) package fresh trimmed or frozen strawberries 1 banana frozen 1/2 teaspoon guar gum (optional) Blend until smooth and creamy. Then serve topped with
Whipped Coconut Cream
and a strawberry or mint garnish. Watch the smiles come out!