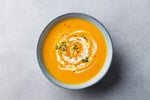 Confession. We're soup snobs at our house and this really is the best butternut squash soup.
Not every soup passes muster, but this one gets two thumbs up all around our table. Simple ingredients. Amazing flavor. You'll love the little dance that tangy apple, creamy coconut and savory squash do in your mouth. And you may not mind that it takes only 10 minutes to throw together.
Ingredients:
1 large or 2 small butternut squash
1 onion chunked
1 green apple peeled, chunked (or 1 cup unsweetened applesauce in a pinch)
Butter or oil to saute
1 13 oz. can coconut cream
2-3 cups water
1 teaspoon salt, or more to taste
Directions:
Cut squash in halves, scoop out seeds and place skin side up on a baking sheet or pan. Roast for 30 minutes in 400' oven. Let cool. (I do this step in the morning or night before and leave it to cool or refrigerate overnight.)
Now, saute onion and apple in a little butter or olive oil until tender. (Timesaver tip: substitute 1 cup unsweetened applesauce for this step.)  Puree everything. Scoop butternut meat out of squash skin and into blender. Add water to make a puree as it blends. Do the same with the apple and onion mixture, coconut cream and salt. Add to soup pot. Stir to combine and taste to correct seasonings. 
Serve warm with a dollop of thick coconut cream. It's dinner and dessert in one!
Fun Factor: We are all born creators. And pureed soups make a lovely contrasting canvas for creative expression.  With a runny coconut cream or UnRanch Dressing try drizzling a circle of white in the center of the soup bowl. Drag a spoon or knife through the circle and Voila! Love heart. Or make a spiral and drag a spoon from the center outward in several directions. Booyah. Spider web. Go ahead and play with your food. For more whole food recipes, check out The Feel Good Cookbook, 5th Edition