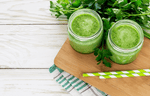 Greenacolada Breakfast Smoothie
This momma's joy is seeing her babies gulp down green goodness anytime of day. Love, love Greenacolada with flaxseeds right now, but the possibilities are endless. Try this one or get artistic and signature style one all your own!
Greenacolada Breakfast Smoothie
4-6 ice cubes
2 cups water
1 big handful spinach leaves or 3 big kale leaves
1 cup fresh pineapple, or 1/3 cup frozen pineapple juice concentrate
1 fresh or frozen banana
2 Tablespoons clean protein powder**
Blend & ENJOY! Enough to serve 4, 1 cup servings.
**If you're on the 30 Day Reboot program, this is your serving of fruit for the day. Boost with your favorite sugarfree, dairyfree, soyfree protein powder to sustain your body til lunchtime.
For more low sugar whole food meal ideas, see The Feel Good Cookbook.