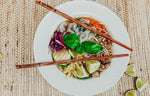 Easy Vietnamese Pho recipe
With four active kids still under the roof, healthy food's gotta be a cinch to pull together or it just doesn't fly... like this Easy Vietnamese Pho, What we love most about this soup is that it can be customized to suit everyone.
Ingredients
Pho Broth: 2 qts Organic Vegetable, chicken or beef bone broth 1/4 cup fish sauce 1 teaspoon grated fresh ginger 1/4 cup chopped cilantro leaves 1 thinly sliced onion (add sea salt to taste, if broth needs it) 1 pound small (1/8-inch wide) dried or fresh "banh pho" noodles, cooked. Add ins for the table: Grated carrot Thin sliced zucchini Thin sliced mushrooms Red cabbage or bok choy shredded Fresh Asian/Thai basil Bean sprouts Thinly sliced red or green chilies Lime wedges Hoisin sauce Asian Sweet chili sauce Siracha Combine broth ingredients in a pot and bring to a boil. Assemble your meal by filling your bowl with rice noodles and your selection of condiments. Pour hot broth over-the-top to soften the vegetables. Add a little more zip if you like with hoisin, sweet chili or pepper sauce and belly up to the bar. For this and more delectable recipes free of sugar, dairy, wheat, corn and soy, check out
The Feel Good Cookbook
in our store.