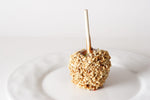 Easy Dairyfree Caramel
Dairy-free caramels? SWEET! Simple ingredients. Simply delicious.
8 Tablespoons butter (one cube) 1 cup honey or agave syrup 1 cup coconut cream (runny consistency) Boil and stir first two ingredients in small saucepan, taking care not to scald by stirring frequently. Then drizzle cream into saucepan in a thin thread so as not to interrupt the boiling of mixture. Continue boiling and stirring constantly for about 15 minutes until caramel reaches 245˚ on a candy thermometer or until caramel can be formed into a firm ball when dropped into a glass of ice water (known as 'hard ball' stage). Spoon over whole apples or shape caramels as desired, placing them in very lightly greased glass dish or silpat nonstick liner.
Easy Dairyfree Caramel