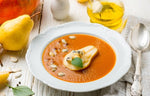 Welcome crisp winter weather with this delectable warm soup.
1 (2 pound) butternut squash
3 tablespoons butter or olive oil
1 onion, diced
2 cloves garlic, minced
2 teaspoons minced fresh ginger root
1 tablespoon curry powder
1 teaspoon salt
4 cups chicken broth
2 firm ripe Bartlett pears, peeled, cored, cut into 1" cubes
1 (13 ounce) can coconut cream
Cooking Directions:
Preheat oven to 375°F. Cut squash in half lengthwise; discard seeds and membrane. Place squash halves, cut sides down, on the prepared baking sheet (non-aluminum surface or line with parchment paper).
Roast in preheated oven until very soft, about 45 minutes. (This gives the squash a sweeter, more robust flavor). Scoop the pulp from the peel, and reserve.
Melt butter or olive oil in a large soup pot over medium heat. Stir in onion, garlic, ginger, curry powder, and salt. Cook and stir until the onion is soft, about 10 minutes.
Pour the chicken broth into the pot, and bring to a boil. Stir in the pears and the reserved squash, simmer until the pears are very soft, about 30 minutes. Use a hand blender to make smooth or do small batches in a blender. Lower temperature and add coconut cream.
Warm and serve. As with all curries this one tastes even more divine the next day. Garnish with thin pear slice and whipped coconut cream. Wahla! For more delicious allergy-free recipes that just feel good inside, grab a copy of The Feel Good Cookbook: Whole Foods and Allergyfree Recipes or the New Reboot Recipes Cookbook in our store.