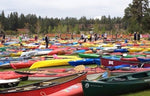 Pole Pedal Paddle
Last week nearly 3,000 people - a mix of elite racers, aging athletes, young guns and party animals dressed in tutus and clown wigs — all made their way down Mount Bachelor via snow-covered slopes, paved roads, trails and the Deschutes River to be crowned the big dogs of outdoor sport in central Oregon. The Pole, Pedal, Paddle is the annual "Rite of Spring" in Bend kicking off summer and giving a final salute to ski season. Competitors sign up as teams, tandems and individuals skiing; skating, cycling, running, paddling and sprinting from the top of Mt. Bachelor Ski Resort to Bend's Les Schwab Amphitheater in downtowns Old Mill District. One year snowfall was so scant that the nordic leg was changed to a 3 mile mountain run. It was our chance to knock down all six legs of the contest as a family. So we took it. Here's a recap of some harrowing moments in our race...
Competitors place skiis at the top of the run, then line up 100 yards below to wait for the starting gun.
Starting Line
Mountain Man took the first leg on downhill skiis. In the mass of confusion at the top he was placed in the wrong starting group so the team event was held up for him to place his skiis and then haul 100 yards downhill to the starting line.
The race begins with an uphill 100 yard dash in ski boots.
Before he could catch his breath the gun went off. Hauling back up the hill, he clipped in and pushed off skiing. "I knew right away there was trouble when my right ski came off. So I chipped away at the bottom of my boot as about 15 guys passed me. Then I started mozying. I guess I was going about 40 mph and 'zing, zing' made my way into 4th place a little from the bottom. Then the number 3 guy caught an edge and just yardsaled everywhere." Making a wide cut around the wipeout he finished behind the number two man for 3rd place. Isaac was so absorbed with the snowballing wipeout that he forgot to video Brett's big finish. (cue imagination.)
Mountain Run
Joss went next with a 2 mile mountain run that replaced the Nordic ski leg of the race. The makeshift trail was pretty muddy and uneven with snow and ice and big tire ruts. This cross country runner said it felt way longer than 2 miles -- maybe because of the half mile uphill finish.
Joslyn runs through mud and ice to the transition station for road biking.
20 mile biking leg from Bachelor to Bend.
Road Bike Race
Soon Isaac started gutting out the first incline. "It was a little unnerving when I saw these way old guys passing me, but overall I felt like I was in control and pretty calm." While pretty experienced on a mountain bike, it was his first time on a road bike and he was a little leary of gravel on the road, especially racing downhill. But he was calm and cool spinning it into Bend. In fact SO cool, he was a little frozen by the time he entered the transition area.
Isaac smiles with relief that his work here is finished. But he could not get out of those biking pants fast enough. #bikingshortsfeellikediapers
Jonell starts the 5 mile river run.
River Run
By mile 4 hossin' it along the river Jonell hit a wall. Just then Joss showed up for moral support and both ran the last mile to the field of kayaks where they passed the timer to Lynley and Brett.
Sea of kayaks ready for the water leg of the race. Finding your boat is like finding a needle in a haystack.
I am the needle.
Brett and Lynley put in for the 1 mile paddle on the Deschutes River.
Kayaking Leg
Lynley led Brett to the river where they paddled upriver to start the one mile loop, pulled hard downriver and muscled against the current again for the upstream finish. Brett remembers. "Halfway through I knew we needed a lighter kayak next time. Think 30 minutes of continuous pushups."
Big Finish
While it may not be the lengthiest feat, every team needs an anchorman, and we had 3! As the kayak pulled up to shore Ethan high fived Lynley and ran for the finish line 800 meters away. Way too far for little legs to do but gradually. Jossie stayed behind to transfer the speed tracking device to her leg and Alex blitzed off in the meantime. Here they are coming across the finish line.
Ethan, for the win.
Alex zooms in 2 seconds later.
800 meter dashers catching their breath at the finish.
Happy finishers - official time, 2 hours 47 minutes and 10 seconds.
It's a sweet moment standing at the finish line seeing those smiles. In under 3 hours this Saturday family project was complete. A whole lot of work for the gang, but what a way to spend a day! Thanks for sharing it with us.