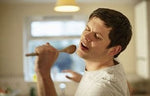 Acid Reflux Heartburn Be Gone
Acid reflux
is that unhappy state where the meals end is marked by burning, burping and indigestion. Instead of taking acid blocking medications, get to the root of the problem and back on track.
How Reboot lowers your acid load
Just like magic, excess yeast in your gut turns healthy looking food into an acid afterparty, with some bubbly carbon dioxide to really 'bring down the house.' When you've had quite enough of that, give those yeasty gangstah's the boot with
30 Day Reboot from Feel Good Foods.
It'll make you want to sing or your money back!
"After suffering with acid reflux & medicating it for close to 20 years I was ready for a change. During that time I also had a bout with IBS that lasted a few years. My voice range shrunk dramatically during that time & recently I'd had difficulty thinking clearly. I was somewhat overweight and had trouble digesting normally. I followed 30 Day Reboot as recommended. Within 3 days my acid reflux went away. After 3 weeks my energy level was higher than it had been in years. After 3 months my digestion has improved and my acid reflux has not returned at all. I have lost more than 20 lbs. and have not gained any of the weight back since introducing high carb foods back into my diet. I've even noticed that my voice range is much larger and continues improving! Using the Reboot supplements and eating well has been such a good experience for me that I've shared it with a number of others who are also experiencing success." –Brian Ellis, Provo Utah
Introducing Reboot… The future isn't what it used to be.
Acid Reflux Heartburn Be Gone