I've had a parasite disturbing my sleep at night with aggravating tickling and itchiness in my anal and pelvic area.  After about 5 nights of this I checked for lice, crabs and any other visible signs of infection, but none were there. Finally I was diagnosed with pinworms.  Instead of taking an antibiotic, I avoided grains and anything sweet, and hit them hard with Body Balance capsules, 6 in the morning, 6 at night which I continued for 3 days.  That may be a little more than recommended, but I sincerely wanted to be done with this forever and FAST.  Within the first...
---
When the antibiotics just don't work...   Hi, I'm Will Faulkner and I was diagnosed with giardia. So I went to my doctor who prescribed Flagyl, but a day after the symptoms all came back.  Stomach cramps, diarrhea, nausea and fatigue.  I called my doctor again and he put me on a 14 day round of antibiotic again.  But all my symptoms came right back again then too. Gut cramps, fatigue and diarrhea. By now I'd lost a significant amount of weight. My energy levels were just super low.  I didn't know what to do. I didn't want to go on...
---
Better Sleep and Weight Loss We spent Spring Break in Cancun Mexico and I brought home E Coli and Giardia.  What fun!  After 3 rounds of antibiotics and still feeling quite ill, exhausted, headachey, bloated, severe stomach cramps and other unmentionables, I didn't know what to do. My throat and mouth were full of yeast and I had difficulty swallowing.  Luckily a friend suggested I try Tumtree Reboot.  After 3 weeks of no dairy, gluten or sugar and using the Reboot protocol I am on my way to recovery. The headaches have stopped and bloating decreased as did my continually stuffy head. My stomach...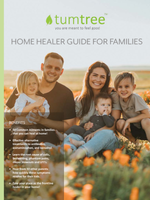 Recent Articles