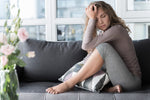 Want to give your body a leg up and out of inflammation, allergies, joint pain and fatigue?
Introducing 30 Day Reboot from Tumtree. Push back the envelope on your body's power to heal, rejuve, AND get energized & fit. Your body will thank you all summer long with a new spring in your step and a light in your eyes.
As easy as 1, 2, 3:
Order your 30 Day Reboot kit 
Follow me on Instagram @Jonellfrancis_ and on Facebook @Tumtree Gut Health (with the green leaf logo) to start seeing our recipes in your feed, plus helpful tips to ramp up your results.
While waiting for your shipment to arrive, download and read our short, full color Ebook "Fix Leaky Gut FAST in 6 Simple Steps", Fill out a Symptom Tracker and browse the sample Weekly Meal plan and Reboot instructions along with other goodies to help you manage in the kitchen.
Watch your mailbox for good things from Tumtree. And be ready to be changed
…for good.
Symptoms of compromised mucous membranes that call for a Reboot may include digestive, respiratory and skin problems, allergies, joint pain and fatigue. Following are symptoms associated with disease that have melted away using our 30 Day Reboot Protocol.
Why? Because your health begins in your barriers to infection and disease....the mucous membranes of the body.
Acid Reflux
Acne
ADD
Aggressiveness/Anger
Allergies
Anxiety
Athlete's foot
Bedwetting
Bladder Infection
Blood sugar problems
Bowel Irregularity
Candida
Canker Sores
Chronic Sinusitis
Constipation
Colic
Colitis
Cold Sores
Cradle Cap
Dandruff
Depression
Diabetes
Diarrhea
Dizziness
Ear Infection
Eczema
Endometriosis
Fatigue
Foggy thinking
Food cravings
Headache/migraine
Herpes virus
High Blood Pressure
Hives
Hypoglycemia
Hypothyroid
Itchy skin
Inflammation
Irregular Menstruation
Irritable Bowel Syndrome (IBS)
Joint Pain
Menstrual Cramps
Memory loss
Morning Sickness
Mouth Sores
Oily hair
Painful menstruation
Pounding Heart
PMS
Rashes/Hives
Rectal itching
Respiratory Infection/ Bronchitis
Seasonal Allergies
Sleeplessness
Sugar Craving/sensitivity
Swine Flu (taken early)
Tachycardia (sporadic racing heart rate)
Tooth Decay
Thinning hair/hair loss
Thrush
Urinary Tract Infection
Urticaria pigmentosa
Vaginal Yeast Infection
Viral Infection (EBV, CMV)
Weight Gain (Weight that won't go away)
Weight Loss (extreme weightloss due to chronic diarrhea and gastrointestinal distress)
Yellow Toenails
Browse our gallery of encouraging reviews from real people, leading real lives like you, who've volunteered their experience with this comprehensive immune boosting program.
Need a Reboot? Reset your immune system in 30 days.
Life is short. Let Reboot help you get to the root of your health problems... and back on track. Reboot from Tumtree. It's healing from the inside out.
"I have been thrilled with my experience using your 30 day system. I had my gall bladder out 3 years ago and have had many digestive issues since then. Reboot has helped me not only with those issues (gas, bloating, constipation, diarrhea), but it has also helped me lose fifteen pounds, sleep better and have more energy for my family and for exercise. It has made me want to improve my eating habits as well. I feel like it has put me on a better path to overall good health; mentally, emotionally and physically."
-- Amy G., Provo, Utah
I really love your products. Over the last few years I have had great success with Reboot. I originally found them when I was dealing with major skin acne as a young adult. A friend recommended I try the whole cleanse and it was amazing that after two weeks I had no new skin eruptions on my face. Soon after I finished the cleanse my skin cleared up completely and boy was I happy! Such a relief.
Fast forward a few years, I had the bacteria H. Pylori within my stomach lining. This is a very resistant strain of bacteria that caused me a lot of indigestion and pain. My doctor recommended that if I didn't want to do antibiotics I could try the Reboot from Tumtree. So I went that route and have been so incredibly pleased.
After a couple days my stomach stopped hurting. The bloating went away and the intestinal pain and inflammation did too. My favorite improvement was when the nausea stopped altogether. Previously I would be nauseous after every meal and first thing in the morning.
After finishing off the cleanse for a month, I felt like a new person! My family and I now keep the cleanse on hand for after holidays, or when we can tell our gut needs a rebalanced state. I am just so glad we were introduced to these supplements. They literally have changed our way and quality of life."
— Kylie Powers Utah
"I ordered Reboot a while ago and it was WONDERFUL! I have battled IBS and fatigue for YEARS and it has been GONE since I did the cleanse. My morning sickness was so much better than any of my other pregnancies too. I am 24 weeks pregnant now and am constipated. Although I can't do a full strength cleanse while pregnant, I'm so happy to learn I can use the Exodus and Glutamine as often as I want. Thank you for all you have done and all the research. This cleanse has been such a blessing to me and my family." 
-- Emily Smith, Idaho